Team CarnoSyn® Fuels 2019 NFL Hopefuls with Sponsorships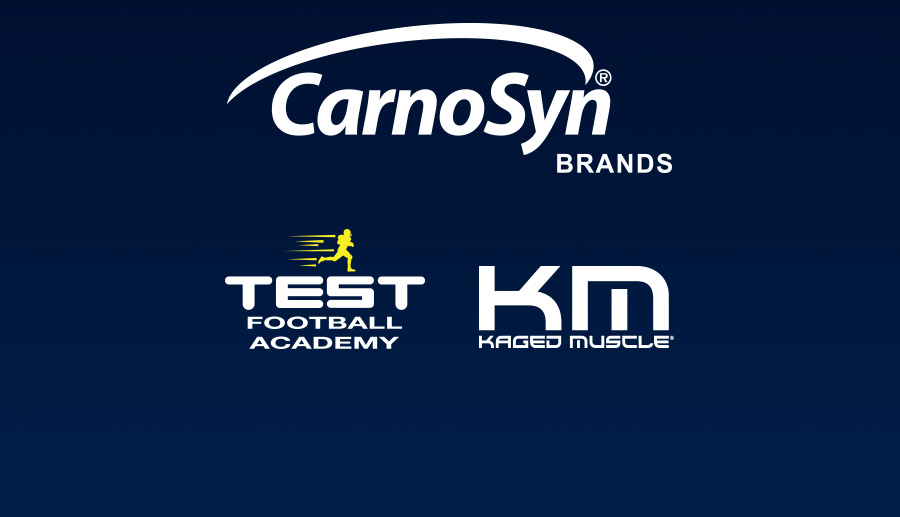 CARLSBAD, Calif., February 28, 2019 – CarnoSyn® Brands, a division of Natural Alternatives International, Inc. ("NAI") (Nasdaq: NAII), and one of the world's leading sports performance ingredients, has partnered with TEST Football Academy for the second year to provide NFL hopefuls with a scientifically-proven edge over the competition. This year, CarnoSyn® Brands and TEST welcome Kaged Muscle® to their team, working together to supplement the elite Combine training athletes with a full line of products containing daily doses of both CarnoSyn® instant release and SR CarnoSyn® sustained release beta-alanine.
"We are pleased to partner with TEST Football Academy and Kaged Muscle® to help this year's TEST Combine class attain peak performance," said Nicole Burbank, Vice President of CarnoSyn® Brands. "We are hopeful that many of the TEST athletes will end up playing professional football and are honored to contribute to the athlete's success."
In just 30 days, the TEST Combine class of 35 athletes has experienced incredible transformations, resulting in a total fat loss of 233 pounds and a total lean body mass (LBM) gain of 237 pounds—for a total body composition swing of 470 pounds. Per athlete, this averaged 6.7 pounds of fat loss and 6.8 pounds of LBM gain, with an average total swing of 13.5 pounds. In terms of performance increases, TEST athletes have achieved average increases of 2.5 inches on the vertical leap, 4 inches on the broad jump, 4 reps on the 225 bench press, and decreased 40 yard dash times by .15 seconds.
"Working with trusted partners like CarnoSyn® and Kaged Muscle®, who offer proven and banned substance-free products, solidifies the fact that we're providing the best supplementation program available for our players," explained Kevin Dunn, TEST Football Academy Owner and CEO. "We can argue all day on methodology and opinions, but the numbers provide undisputable evidence that this collective system truly works. We train the top 1% of athletes in the country, so incorporating sports performance ingredients like CarnoSyn® and SR CarnoSyn®, which are patented and supported by more than 55 scientific studies, is something that truly sets us apart from the competition. It allows our athletes to excel in all areas as they prep for a career in the NFL, CFL, AAF and soon to be XFL."
Dunn went on to say, "This year has proven to be a landmark for TEST Football Academy, achieving some of the most mind blowing results in our 20-year history. Staying healthy and recovering optimally is no small task when training six days per week, two to three times per day. We elevated our game this year by enhancing our sports nutrition model with calorie and macro nutrient tracking and welcoming Kaged Muscle® as our new sports nutrition partner. Kaged Muscle® set the stage for us to dominate our workouts—Pre-Kaged®, In-Kaged® and Re-Kaged® was our go to stack in the weight room, providing the perfect combination of caffeine, creatine, and instant release CarnoSyn® beta-alanine. Using this stack in conjunction with the SR CarnoSyn® tablets helped regulate beta-alanine levels all day and packed a punch with lactic acid buffering when we needed it most. The results have been staggering, with an average of 6.7 pounds fat loss and 6.8 pounds of LBM gained. They arrived as boys… they left as men."
Kaged Muscle® CEO, Kris Gethin, stated, "There are numerous professional football players taking Kaged Muscle® supplements, so it made sense to provide the same opportunity to pro football hopefuls and their coaches, which is why we decided to co-sponsor TEST Football with CarnoSyn®, one of our patented ingredient manufacturers," Gethin said. "CarnoSyn® is a mainstay ingredient in our pre-workout, Pre-Kaged®, our intra-workout, In-Kaged® and as a standalone sustained release version called SR CarnoSyn®, which all help to buffer lactic acid and prolong endurance. Our supplements are some of the highest rated and reviewed products with standout fermented, patented and organic ingredients that are naturally flavored, naturally colored and banned substance free certified. Our products range from the highest premium protein isolates to the world's first completely soluble creatine. Sports stars from the UFC to the Olympia stage choose Kaged Muscle®, and now we are confident that football athletes will share this vision for their success too."
As part of this partnership, CarnoSyn® Brands is sponsoring three players from the 2019 TEST NFL Combine class and chronicling their inspirational journeys, primarily through video and social media, to build brand awareness and foster education on the efficacious loading and dosing of CarnoSyn® and SR CarnoSyn® beta-alanine. From NFL players to Olympians and legendary trainers, Team CarnoSyn® is made up of athletes who will stop at nothing to achieve their dreams and who live by the mantra "Today I Will."
Introducing the newest members of Team CarnoSyn®:
As pictured: Tuzar Skipper, Foster Moreau, Kevin Dunn, and Darnell Savage
Photo credit: Kyle Lieberman
Tuzar Skipper, Defensive End for Toledo Rockets
(Fat Loss – 3.7 pounds, LBM Gain – 12.6 pounds, Total Swing—16.3 pounds)
Skipper overcame adversity to earn a starting role on Toledo's renowned defense and looks to use that opportunity to continue his pursuit of his NFL dream. He committed himself to dominate the training process and catapult himself to the next level, adding 12.6 pounds of LBM, becoming stronger, faster and more explosive than he's ever been.
Foster Moreau, Tight End for Louisiana State University Tigers
(Fat Loss – 7.5 pounds, LBM Gain – 7.6 pounds, Total Swing—15.1 pounds)
After earning a reputation as a devastating blocker with consistently reliable hands in college football's most elite conference, Moreau turned his sights to the 2019 Senior Bowl where he demonstrated a drive and dedication that earned him the prestigious South Team's Player of the Week honors. The rigors of the NFL Combine will present Moreau with the opportunity to demonstrate his cerebral approach to the game of football, his precision footwork, and remarkable explosiveness.
Darnell Savage, Defensive Back for Maryland Terrapins
(Fat Loss – 2.4 pounds, LBM Gain – 10 pounds, Total Swing—12.4 pounds)
Savage was the physical and emotional leader of the 2018 Terrapins Football Team and led his squad through a season of triumph and tragedy, demonstrating veteran maturity both on and off the field. He carried that hard-hat work ethic with him to Mobile where he dominated a talented defensive back group to earn honors as the North Team's Player of the Week. With the NFL Combine in his sights, Savage looks to demonstrate his near flawless technical abilities and world-class speed.
About CarnoSyn® Brands:
CarnoSyn® Brands feature two clinically studied, patented ingredients available exclusively from Natural Alternatives International, Inc.: CarnoSyn® instant release beta-alanine and SR CarnoSyn® sustained release beta-alanine. In 2019, CarnoSyn® beta-alanine successfully obtained NDI status from the FDA. In the sports nutrition segment, both ingredients are well known to deliver benefits for athletic performance: Increased strength, enhanced endurance, faster recovery and greater mental focus.
SR CarnoSyn® is an advanced delivery form of CarnoSyn®, which delivers higher dosing levels of beta-alanine, and is proven to provide benefits for both wellness and healthy aging. In 2017, SR CarnoSyn® was determined to be safe through independent scientific procedures, thus satisfying the technical element of the Generally Recognized as Safe (GRAS) determination. The GRAS affirmation allows NAI to broaden their product offerings beyond the sports nutrition space and focus on the dietary supplement and food and beverage industries, including medical and other fortified food products.
About NAI:
NAI, headquartered in Carlsbad, California, is a leading formulator, manufacturer and marketer of nutritional supplements and provides strategic partnering services to its customers. NAI's comprehensive partnership approach offers a wide range of innovative nutritional products and services to our clients including: scientific research, clinical studies, proprietary ingredients, customer-specific nutritional product formulation, product testing and evaluation, marketing management and support, packaging and delivery system design, regulatory review and international product registration assistance. For more information about NAI, please visit www.nai-online.com.
About TEST Football Academy:
TEST Football Academy has been training football players at all levels since 1999, marking 2019 as its 20th anniversary. Over that tenure, they have assembled the most experienced, world class team ever to prepare collegiate NFL prospects for the NFL Combine and Pro Days. They also work with youth and high school athletes, helping ballers of all ages get to the next level. This team of professionals consists of prominent performance coaches, international speed consultants, Super Bowl champions, pro bowlers, medical experts, sports psychologists, nutrition counselors, massage therapists, media personalities and interview prep professionals.
TEST Football Academy is the result of Owner and CEO, Kevin Dunn, Director of Football Operations, Geir Gudmundsen and a team professionals with over a century of collective experience, having worked with nearly 400 pro athlete hopefuls over two decades, with a success rate of over 250 athletes who have gone on to play professional football. They prepare athletes for the NFL Combine, Pro Days and help to extend NFL careers with consistent follow-up and coaching in the off season year after year. No longer does an athlete have to accept one trainer when they can have an entire team of experts supporting them on the most important journey of their lives with the potential to earn generational income.
About Kaged Muscle:
Kaged Muscle® is an award winning, ultra-premium sports nutrition line and lifestyle brand, created to help athletes and fitness enthusiasts of all levels reach their transformation goals. Headquartered in Huntington Beach, California, KM is a rapidly growing producer of innovative, high-quality products in the sports nutrition category. Earning top accolades in 2017 and 2018 for their flagship products, Pre-Kaged®, In-Kaged® and Kasein®, from sports nutrition retail giants Bodybuilding.com, GNC and Vitamin Shoppe, KM's award-winning line has quickly become an industry leader for clean, premium quality products and the brand consumers can trust.
Formulated with research-backed premium quality and patented ingredients, each and every KM product undergoes rigorous in-lab development and testing as well as real-world use in the gym by top athletes, to ensure their quality and effectiveness. KM's commitment to providing athletes of all levels with premium, safe, science-backed sports nutrition products sets the brand apart from many of its competitors. The comprehensive line of sports nutrition products is third party tested for purity and potency, contains no artificial colors or flavors, no synthetic caffeine, fermented and vegan-sourced amino acids, and is certified free of banned substances by Informed-Choice and Informed-Sport. In addition to offering premium quality products, KM also provides consumers with an array of powerful resources, including hundreds of articles, videos and online trainers, to help educate and guide them on their journey to better health and performance.
This press release contains forward-looking statements within the meaning of Section 21E of the Securities Exchange Act of 1934 that are not historical facts and information. These statements represent our intentions, expectations and beliefs concerning future events, including, among other things, our future revenue profits and financial condition, our ability to maintain our patents, generate revenues from the commercialization of our patents and trademarks, secure compliance with our intellectual property rights, and develop, maintain or increase sales to new and existing customers, as well as future economic conditions and the impact of such conditions on our business. We wish to caution readers that these statements involve risks and uncertainties that could cause actual results and outcomes for future periods to differ materially from any forward-looking statement or views expressed herein. NAI's financial performance and the forward-looking statements contained herein are further qualified by other risks, including those set forth from time to time in the documents filed by us with the Securities and Exchange Commission, including our most recent Annual Report on Form 10-K.
CONTACT:
Renee Michaelson, CarnoSyn® Marketing Manager, Natural Alternatives International, Inc., at 760-736-7700 or [email protected].
Websites: http://team.carnosyn.com/ and http://www.srcarnosyn.com/ and http://nai-online.com
SOURCE: Natural Alternatives International, Inc.