Team CarnoSyn® Athletes Shine at 2020 NFL Scouting Combine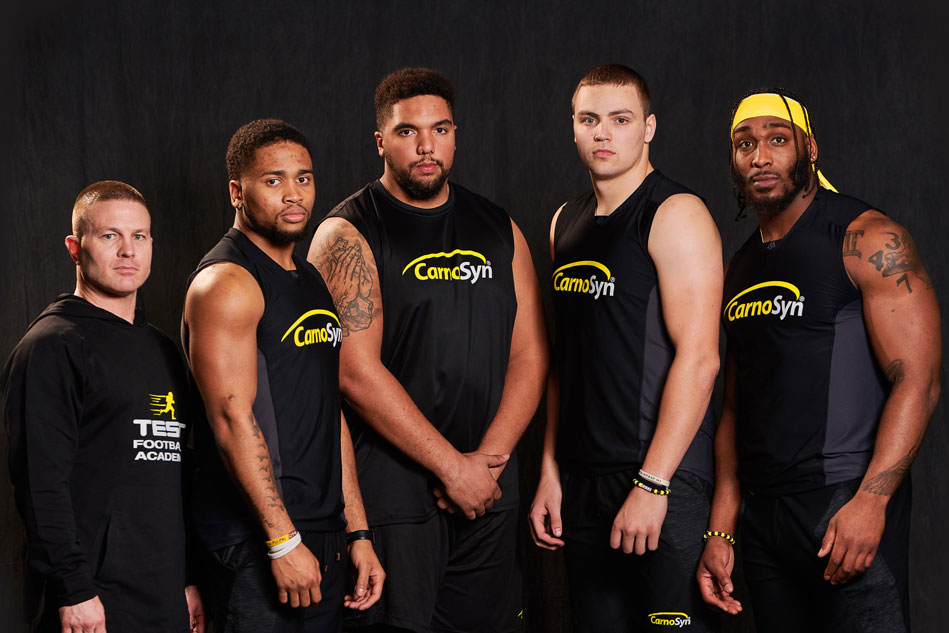 CARLSBAD, Calif., March 6, 2020 – CarnoSyn® Brands, a division of Natural Alternatives International, Inc. ("NAI") (Nasdaq: NAII), and one of the world's leading sports performance ingredients, has partnered with TEST Football Academy for the third year in a row to fuel NFL hopefuls in their preparation for the combine and their respective collegiate pro days. Several new Team CarnoSyn® athletes made their mark at the 2020 NFL Scouting Combine.
TEST Football Academy is one of the nation's top authorities in preparing college football players for the biggest job interview of their lives at the NFL Combine. The 2020 class consisted of 56 athletes—the largest class ever—who underwent an intensive 45-day program, which included a strict training, nutrition, and supplementation regimen, incorporating daily doses of both CarnoSyn® instant release and SR CarnoSyn® sustained release beta-alanine, via Kaged Muscle's line of products.
The most powerful transformations in TEST's 21-year history have been realized in the past three years, which are strongly attributed to the supplementation with CarnoSyn® and SR CarnoSyn®. In just 45 days, the 2020 TEST Combine class of 56 have undergone a metamorphosis—46 of which have resulted in a total fat loss of 216 pounds and a total lean body mass (LBM) gain of 257 pounds—for a total body composition swing of 473 pounds. Of the 46 athletes post-tested to date, this averaged 4.7 pounds of fat loss and 5.6 pounds of LBM gain, with an average total swing of 10.3 pounds. In terms of performance increases, TEST athletes have achieved an average increase of 2.5 inches on the vertical leap, 6 inches on the broad jump, 6 reps on the 225 bench press, and decreased 40 yard dash times by .17 seconds.
"We are very proud of the results of our partnership with TEST and Kaged Muscle®—the athlete before and after photos provide a robust case study on how a well-designed training and supplementation program can truly transform the body," said Ken Wolf, President and COO for Natural Alternatives International, Inc. "NAI has invested heavily in scientific research and stringent quality control over the years and the hard work has paid off.
CarnoSyn® is the only beta-alanine that has successfully obtained NDI and self-affirmed GRAS status. Our growing list of awards and certifications, such as the 2019 Sports Nutrition Ingredient of the Year award from NutraIngredients-USA, have helped to establish CarnoSyn® as a trusted brand and the only choice for tested, patented, and pure beta-alanine. We look forward to watching our sponsored athletes achieve their professional football dreams over the coming year."
Kevin Dunn, TEST Football Academy Owner and CEO stated, "We are thrilled to continue our partnership with CarnoSyn® and Kaged Muscle®, who offer proven and banned substance-free products recognized by Informed Sport, Informed Choice, and Aegis Shield, which solidifies the fact that we're providing the very best supplementation program available for our players that guarantees quality, potency and purity. Only CarnoSyn® offers the patented, non-adulterated version of beta-alanine which accelerates muscle growth, increases strength and endurance by buffering lactic acid. We can't risk using sub-standard products when so much is on the line for these athletes—those trying to go pro and every high school and college athlete competing for an athletic scholarship."
"Every year we are blown away with the results of the TEST athletes," said Brian Rand, Chief Innovation Officer at Kaged Muscle®. "Not only can you visually see the muscle gains and fat loss, the athletes also experienced significant improvements on the field in speed, agility, endurance and strength by following an intense training protocol combined with premium supplements. Each athlete supercharged their performance by taking Kaged Muscle®'s pre-workout, Pre-Kaged®, our intra-workout, In-Kaged®, and Re-Kaged®, our post-workout, providing 3.2g of patented CarnoSyn® beta-alanine. The athletes maximized their beta-alanine levels by stacking with our standalone sustained release SR CarnoSyn® tablets and supplementing multiple times per day, leading to a total daily dosage of 9.6-11.2g of CarnoSyn® and SR CarnoSyn® combined. It's important that athletes fuel their bodies with proven ingredients backed by science and why Kaged Muscle® only uses CarnoSyn® beta-alanine in our premium supplements."
As part of the partnership, CarnoSyn® Brands is sponsoring three players from the 2020 TEST NFL Combine class and continued sponsorship of one player from the 2019 TEST class, chronicling their inspirational journeys to build brand awareness and foster education on the efficacious loading and dosing of CarnoSyn® and SR CarnoSyn® beta-alanine. The proven performance is evident by the before and after photos and the NFL Combine performance.
Introducing the 2020 Team CarnoSyn® Roster:
Nate Stanley, Quarterback for Iowa Hawkeyes
(2020 TEST Combine Class Transformation: Fat Loss – 23 pounds, LBM Gain – 10 pounds, Total Swing—33 pounds)
At 6-4 and 240 pounds, Nate Stanley is the prototypical NFL quarterback with a strong arm and big frame. Stanley was a rock for the Hawkeyes offense, starting all 39 games in his final three seasons at Iowa. He ranks second all-time in Hawkeyes history for touchdown passes (68) and career passing yards (8,302). He was a proven winner in his biggest games, going 3-0 in three bowl games.
Stanley's NFL Combine performance was highlighted by a 4.81 official 40 yard dash, setting a personal record that was nearly 2 tenths faster than his day one 40 time at TEST. Next up is his Pro Day at Iowa on March 23rd. Stanley is expected to be a mid-round selection in the 2020 NFL Draft.
Kyle Murphy, Offensive Lineman for Rhode Island Rams
(2020 TEST Combine Class Transformation: LBM Gain – 13 pounds)
Kyle Murphy is a versatile offensive line prospect. Murphy, a team captain at Rhode Island, was named second team Associated Press All-American and received first team All-Colonial Athletic Association honors after starting 12 games at left tackle as a senior. The 6-3, 316-pound Murphy anchored an offensive line that allowed just 2.17 sacks per game despite his team averaging a league-high 42 pass attempts per game.
Murphy's performance at the NFL Combine likely intrigued teams looking at adding quality depth to their roster. He checked the box at every combine drill and dominated his positional work displaying a huge upside to all 32 teams, especially coming from the FCS conference. He is expected to participate in his Pro Day at Rhode Island on March 25th. Murphy is projected to be a Day 3 5-7 round selection at the 2020 NFL Draft.
Myles Hartsfield, Safety for Ole Miss Rebels
(2020 TEST Combine Class Transformation: Fat Loss – 9.5 pounds, LBM Gain – 6.5 pounds, Total Swing—16 pounds)
Myles Hartsfield was a four-year starter at Ole Miss, alternating between cornerback and free safety over 48 collegiate games. As a senior in 2019 he matched his 2018 season with 41 tackles. He also compiled 2.5 tackles for loss, a sack and an interception. Hartsfield trained with TEST every off season.
Despite not receiving an invitation to the NFL Combine, Hartsfield's Pro Day testing numbers will likely be among the top 5 in every event. He will have a chance to showcase his talents at the Ole Miss Pro Day on March 25th.
Tuzar Skipper, Linebacker for Pittsburgh Steelers
(2019 TEST Combine Class Transformation: Fat Loss – 3.7 pounds, LBM Gain – 12.6 pounds, Total Swing—16.3 pounds)
A defensive end out of the University of Toledo in 2019, Skipper racked up 60 tackles, 8.5 sacks and 11.5 tackles for loss en route to third-team All-MAC honors. While preparing for his Pro Day at TEST Football Academy in 2019, Skipper began supplementing with CarnoSyn® beta-alanine. At UT's Pro Day in March, Skipper put up an astonishing 30 reps on the bench press—a total which would've ranked second among all edge defenders at the 2019 NFL Combine. He supplemented that spectacular feat of strength with a 10-foot-7 broad jump.
Skipper was initially an undrafted free agent for the Steelers who made Pittsburgh's 53-man roster coming out of camp, but was waived shortly prior to their first regular-season game. The New York Giants proceeded to poach him off waivers, and he totaled 3 tackles and a half sack over his six games on their active roster. He was moved to their practice squad in late October, and the Steelers snatched him back to their own active roster, signing a two-year contract and cementing Skipper's future in the NFL.
About CarnoSyn® Brands:
CarnoSyn® Brands feature two clinically studied, patented ingredients available exclusively from Natural Alternatives International, Inc.: CarnoSyn® instant release beta-alanine and SR CarnoSyn® sustained release beta-alanine. In 2019, CarnoSyn® beta-alanine successfully obtained NDI status from the FDA. In the sports nutrition segment, both ingredients are well known to deliver benefits for athletic performance: Increased strength, enhanced endurance, faster recovery and greater mental focus.
SR CarnoSyn® is an advanced delivery form of CarnoSyn®, which delivers higher dosing levels of beta-alanine, and is proven to provide benefits for both wellness and healthy aging. In 2017, SR CarnoSyn® was determined to be safe through independent scientific procedures, thus satisfying the technical element of the Generally Recognized as Safe (GRAS) determination. The GRAS affirmation allows NAI to broaden their product offerings beyond the sports nutrition space and focus on the dietary supplement and food and beverage industries, including medical and other fortified food products.
About NAI:
NAI, headquartered in Carlsbad, California, is a leading formulator, manufacturer and marketer of nutritional supplements and provides strategic partnering services to its customers. NAI's comprehensive partnership approach offers a wide range of innovative nutritional products and services to our clients including: scientific research, clinical studies, proprietary ingredients, customer-specific nutritional product formulation, product testing and evaluation, marketing management and support, packaging and delivery system design, regulatory review and international product registration assistance. For more information about NAI, please visit www.nai-online.com.
About TEST Football Academy:
TEST Football Academy has been training football players at all levels since 1999. Over that tenure, they have assembled the most experienced, world class team ever to prepare collegiate NFL prospects for the NFL Combine and Pro Days. They also work with youth and high school athletes, helping competitors of all ages get to the next level.
TEST Football Academy is the result of Owner and CEO, Kevin Dunn, Director of Football Operations, Geir Gudmundsen and a team professionals with over a century of collective experience, having worked with nearly 400 pro athlete hopefuls over two decades, with a success rate of over 250 athletes who have gone on to play professional football. In a savage pursuit of mastering the details, they have partnered up with 4X Olympic Sprint Medalist and NBC Sports Analyst Ato Boldon for intensive 40 yard dash work and Absolute Nutrition Solutions Owner, Lauren Dunn, who provides all the nutrition tools necessary to fuel the athlete's transformations. Offensive coordinator & quarterback coach Tony Racioppi, has also quickly become one of the most sought out quarterback coaches in the country that includes a resume as a lead coach for the Manning Passing Camp for the past 7 years with 23 current professional quarterback's and 24 current D1 quarterback's. Finally, Robert Price from Elite Minds (former Sports Psychologist with the NY Giants) helps players master their interview prep and the mental side of peak performance. Collectively, they prepare players for the NFL Combine, Pro Days and help to extend NFL careers with consistent follow-up and coaching in the off season year after year. No longer does an athlete have to accept one trainer when they can have an entire team of experts supporting them on the most important journey of their lives with the potential to earn generational income.
About Kaged Muscle:
Kaged Muscle® is an award winning, ultra-premium sports nutrition line and lifestyle brand, created to help athletes and fitness enthusiasts of all levels reach their transformation goals. Headquartered in Huntington Beach, California, KM is a rapidly growing producer of innovative, high-quality products in the sports nutrition category. Earning top accolades in 2017 and 2018 for their flagship products, Pre-Kaged®, In-Kaged® and Kasein®, from sports nutrition retail giants Bodybuilding.com, GNC and Vitamin Shoppe, KM's award-winning line has quickly become an industry leader for clean, premium quality products and the brand consumers can trust.
Formulated with research-backed premium quality and patented ingredients, each and every KM product undergoes rigorous in-lab development and testing as well as real-world use in the gym by top athletes, to ensure their quality and effectiveness. KM's commitment to providing athletes of all levels with premium, safe, science-backed sports nutrition products sets the brand apart from many of its competitors. The comprehensive line of sports nutrition products is third party tested for purity and potency, contains no artificial colors or flavors, no synthetic caffeine, fermented and vegan-sourced amino acids, and is certified free of banned substances by Informed-Choice and Informed-Sport. In addition to offering premium quality products, KM also provides consumers with an array of powerful resources, including hundreds of articles, videos and online trainers, to help educate and guide them on their journey to better health and performance.
This press release contains forward-looking statements within the meaning of Section 21E of the Securities Exchange Act of 1934 that are not historical facts and information. These statements represent our intentions, expectations and beliefs concerning future events, including, among other things, our future revenue profits and financial condition, our ability to maintain our patents, generate revenues from the commercialization of our patents and trademarks, secure compliance with our intellectual property rights, and develop, maintain or increase sales to new and existing customers, as well as future economic conditions and the impact of such conditions on our business. We wish to caution readers that these statements involve risks and uncertainties that could cause actual results and outcomes for future periods to differ materially from any forward-looking statement or views expressed herein. NAI's financial performance and the forward-looking statements contained herein are further qualified by other risks, including those set forth from time to time in the documents filed by us with the Securities and Exchange Commission, including our most recent Annual Report on Form 10-K.
###
SOURCE: Natural Alternatives International, Inc.
CONTACT:
Renee Michaelson, CarnoSyn® Marketing Manager, Natural Alternatives International, Inc., at 760-736-7700 or [email protected].
Websites: http://team.carnosyn.com/ and http://www.srcarnosyn.com/ and http://nai-online.com